To meet the needs of our families at Pagosa Peak Open School, we offered an AFTER SCHOOL CLUB during the months of October, November and December, to help out families that found it challenging to pick up their children prior to 5pm… due to working at 9-5 jobs.  The Club met after school, five days a week, and offered free-time play and various craft activities led by a staff of volunteer parents, grandparents and community members.  The tuition was on a sliding scale, depending on what parents felt they could afford.  The funds gathered were earmarked for hiring a paid Club coordinator in January.
The School Board has not yet determined if the program will be continued after Christmas Break.
For the month of December (10 days, including 2 Friday sessions) the cost is either $122 (full donation) or $75 (partial donation.)
You are welcome to donate any amount in-between, as you can afford.
Parents paying by the day, pay $10 per day except for Fridays, which are $15.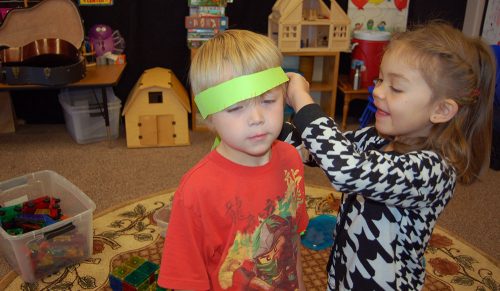 Parents must stop by the Pagosa Peak office and fill out the permission form before their child starts camp, and at the beginning of each month. Payment is due when you fill out your monthly permission form.
The Club will provide care from the end of the school day until 5:00pm. Kids can be picked up at any time between 4:30 and 5:15. If you need to pick up your child earlier than 4:30, please let us know in advance — as we may be taking occasional exploratory walking trips around the Aspen Village neighborhood.
NOTE: Parents or grandparents who volunteer at the CLUB can bring their student(s) with them at no charge, and also receive an extra FREE day of camp for their student. Contact Bill Hudson, 970-403-9793 for information about volunteering.
Sign-up and payment:
Parents can enroll their children at the beginning of each month, for the full month, for a week, or for individual days. A child is not considered enrolled until full payment is made for the days selected. We accept checks and cash. Payment must accompany the enrollment form, made out to Pagosa Peak Open School, with a note "After School Club." Please keep in mind that payments might not be processed immediately.
Taxes:
The After School Club does not issue year-end receipts for child care. If you plan on itemizing child care expenses at tax time, you will need to keep track of your own expenses. We can provide our tax ID number at your request.
Medication Protocol:
If your child is in need of prescribed or over-the-counter medication that is not life-saving medication such as an Epipen or inhaler, parents must administer the medication before or after Club hours, or else come in during Club hours to administer medication. The Club will not store, carry, or administer any prescribed or over-the-counter medications. If your child has a life-saving medication such as an Epipen or inhaler, parents must submit a child health care plan within 7 days of the child's first day in the Club.
As a parent, you have a responsibility to report any diagnosed communicable illness to the Club Coordinator as soon as possible.
Non-authorized Pick-up:
Children will not be released to anyone not listed in this application, unless the person presents a written permission note from the parent or guardian, and presents a picture ID. If the ID does not match the authorizing permission note, the child will not be released and the parent or guardian must come to the school to pick up the child.
Supplies:
Please provide a nutritious (non-sugary) snack for your child to bring to the Club. (The Club will provide snacks for the first day of each session.) All children are required to bring their own sunscreen, as necessary for sun protection, a backpack, and appropriate clothing. We will be spending time outdoors on a regular basis.
Discipline Policy:
The Club recognizes the individuality of each child and encourages mindfulness among all children and staff. When a situation develops, children will be encouraged to talk among themselves to solve the problem, with staff overseeing the conversation. If this process is not fruitful, staff will discuss further possible solutions. We welcome parent input and suggestions regarding behavior and discipline.
When a child's behavior is so severe that it jeopardizes the physical or mental safety of other children or staff, it may become necessary to remove the child for the day. The Club reserves the right to terminate the child's enrollment in the program, with the concurrence of the Pagosa Peak Open School Director.
Injuries:
By participating in the Pagosa Peak Open School After School program, you agree for yourself and all participating family members to the following:
1.  To observe and obey all posted rules and warnings, and further agree to follow all oral instructions and directions provided by the representatives, employees and/or agents of the Pagosa Peak Open School After School programs.
2.  Recognize and assume all inherit risks associated in the participation of the Pagosa Peak Open School After School Program. Participant(s) are fully responsible for any personal injury, damage or loss incurred while engaging in the programming and further agree to hold harmless, regardless of fault, Pagosa Peak Open School, its employees, representative and/or agents during said participation.
3.  Agree to pay for all damage to the facilities of Pagosa Peak Open School caused by the participants' negligent, reckless or willful actions.