Advisors (Teachers)
Karla Parker Choat
Lead Advisor, Kindergarten
Karla Parker Choat — "Miss Karla" — is the kindergarten advisor at PPOS.  In addition to giving students a strong academic foundation to build upon, she considers herself a facilitator of learning.
She came to PPOS with an eclectic background bringing the richness of her life experiences to her classroom.  Miss Karla's experience ranges from teaching preschool, kindergarten, first and second grade art at Our Savior Lutheran School to riding instruction for kids six to eighty six at Lost Creek Ranch in Moose, WY where she was The Corral Supervisor for nine years.
Miss Karla holds a Bachelors of Fine Arts Degree from Ringling College of Art and Design and a Masters of Fine Arts Degree from Colorado State University where she earned a graduate teaching assistantship instructing undergraduates how to install museum quality art exhibitions. Miss Karla has traveled to Southeast Asia the last two years with her husband and two daughters who also attend PPOS.  She applies her global perspective and passion for world culture to her classroom everyday.
Miss Karla believes she learns as much from her students as they learn from her.  She takes their ideas and runs with them which instills a sense of excitement for learning because her students feel that their inspirations are recognized and appreciated.  She sees the value of project-based learning as her students gain the ability to guide their own learning process.  The outcome being a very engaged and excited child with a strong foundation for a lifetime of learning.
Kelle Bruno
Lead Advisor, 1st & 2nd Grade
Kelle Bruno has been the 1st and 2nd grade teacher at PPOS since 2017.  Before that she was the Spanish teacher at Pagosa Springs Elementary School.   Kelle has an Elementary Teaching License from Fort Lewis College with an endorsement to teach Linguistically Diverse Education.
Prior to her work in education, Kelle was a board member and garden educator for the Garden Project of SW Colorado in Durango and ran her own market garden, Southern Roots Farm, in Bayfield. She was also the Research Farm Manger at the Seeds of Change Research Farm in northern New Mexico.  Kelle has a Bachelor of Arts in Sustainable Development and Agroecology from Appalachian State University in North Carolina. She and her husband currently run an 1/8 acre organic vegetable garden where the students are able to have first hand experiences in food production and marketing.
Kelle brings a wealth of school garden, Spanish, and natural science experience to her 1st and 2nd grade students.  She enjoys skiing, cooking, and exploring the beautiful natural landscape of Pagosa Springs with her husband and their 2 year old daughter.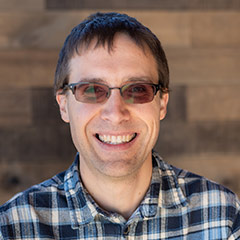 Thomas Davenport
4th & 5th Grade Advisor
Thomas was born and grew up in Dallas, Texas. After graduating from the International Baccalaureate program in high school, he studied history and business administration at Carnegie Mellon University in Pittsburgh, before returning to Dallas to take an IT position at an elementary school where he worked for five semesters, while studying for his teacher certification.
What drew Thomas to education a decade ago was "the fact that school is the place in our society where children's lives and futures are shaped. Not only that, but each child's identity, self-esteem, level of self-awareness, and intellectual curiosity are also shaped at school."
While undergoing a transformative six years in public school teaching, he began to train himself in alternative pedagogies such as Montessori, Waldorf, homeschooling, and democratic schooling. After reading entirely too much for his own good, he resolved to teach for schools that fully embodied the truth that education is a process and that education is, in fact, life itself.
Thomas graduated in the summer of 2018 with an M.Ed. in Educational Leadership through CSU, and he's glad to bring these fresh ideas to the Pagosa Peak Open School as an Advisor.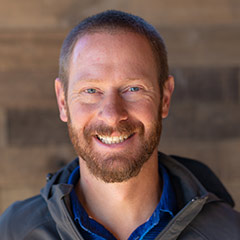 Kobe Biederman
3rd & 4th Grade Advisor, Outdoor Learning Coordinator
Kobe Biederman is a 4th and 5th Grade Advisor and Outdoor Learning Coordinator at PPOS. Kobe has over fifteen years of experience in the field of experiential learning including outdoor education, adventure education, and classroom teaching.
Kobe's previous classroom experience includes teaching 5th-grade Environmental Science at a private K-8 school in New England, teaching middle school science at the Paulo Freire Freedom School in Tucson, AZ, and acting as the Director of Sustainability Studies at a private high school in central Arizona where he taught Sustainability Studies and Environmental Science.
Kobe earned a Bachelors Degree in Sociology from the University of Oregon, a Masters Degree in Recreation Administration from Aurora University, and a Masters Degree in Education from Northern Arizona University. Kobe is a third year Ph.D. student in Sustainable Education from Prescott College with a focus on school design, school leadership, school culture, and complex adaptive systems.
Kobe came to PPOS to gain a deeper understanding of how place-based and project-based learning connects to the concept of sustainable education. Kobe looks forward to helping PPOS students connect to the local community and environment while developing their unique gifts and talents through experiential learning.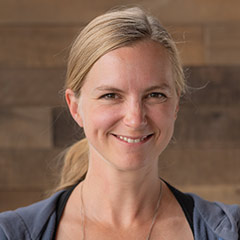 Emily Murphy
Title I, Food Security Advisor
As one of Pagosa Peak's Title I instructors, Emily Murphy will serve as our food security advisor for the 2018-2019 school year. In this position, she will work with PPOS students and youth in Archuleta county on student-led projects relating to cooking, gardening, nutrition and food access.
This will be Emily's 12th year teaching. She comes to us from Colorado State University's Early Childhood Center where she worked as a mentor teacher and instructor for the Human Development and Family Studies Department. She holds a degree in print journalism and a teaching certificate in early childhood; and is currently working on a master's degree in Curriculum and Instruction.
Emily has an extensive background in project-based learning (PBL), as well as garden and nutrition education. Before moving to Colorado she worked at Awakening Seed School in Phoenix, where she co-wrote a food-based curriculum and policy, while establishing and maintaining classroom and school gardens. During her time at CSU she organized efforts for a school garden, resulting in the school's first garden space and cooking curriculum.
Her passion for PBL combined with her experiences at CSU gave her opportunities to present on project-based learning at the Rocky Mountain Early Childhood Conference, the National College Child Care Center Conference, and through class lectures at the university. Her work has also been published in the North American Reggio Emilia Association's magazine and the Buck Institute for Education's website.
Emily is excited to apply all her passions under the umbrella of food security advisor this year.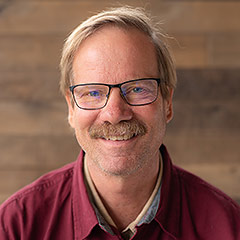 James Lewicki
School Director
James Lewicki, PPOS School Director, is an experienced K-12 educator with a diverse journey in education. A licensed Colorado principal, with a Masters in Education and a second Masters in Outdoor Education Administration, Mr. Lewicki spent 7 years as a YMCA Camp Director before he entered education in his late 20's. He taught elementary education for 17 years in Wisconsin. In 1994 he was a Wisconsin Teacher of the Year finalist; moreover, he received a prestigious Kohl Fellowship as one of the top 100 educators in Wisconsin.
Lewicki's first degree was from Colorado Mtn. College in Outdoor Recreation Leadership. Afterwards, he was an instructor for the National Outdoor Leadership School in Wyoming.
Lewicki has authored many works on education (www.jameslewicki.org) and for 10 years — through his consulting work — he helped create over 100 place-based and project-based schools across America. Many of these schools are entering their second decade and highly acclaimed in both academics and community engagement. ( http://www.jameslewicki.org/25-top-schools.html)
Understanding the power of the PPOS vision/mission, James and his wife Renee moved to Pagosa Springs to bring the PPOS vision to reality. Renee is a Massage Therapist at the Overlook Spa.
James and Renee have five adult children. Their eldest daughter Hana and partner Daniel run Tierra Vida Farm along the Florida River by Durango, and another daughter Jamie lives with them in Pagosa Springs and is a vocational student at the Parelli Ranch and has a dog training and sitting business.   Completing his family are Aurian, his son and oldest, a home builder in Wisconsin, Cora Rose a singer-songwriter (www.corarose.com) traveling abroad, and Sabrina, a Prescott College student.