Pagosa Peak Open School (PPOS) is an intentionally small and intimate tuition-free, public charter school in Pagosa Springs, CO. PPOS is chartered through Archuleta School District and governed by an independent, volunteer Board of Directors.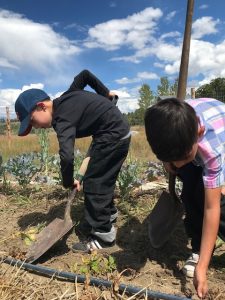 Pagosa Peak Open School was started by a small group of local parents dedicated to bringing an innovative educational choice to our small mountain  community. These parents visited multiple charter schools across Colorado and attended workshops and conferences to learn the process of starting a school. They researched alternative forms of education and decided that a school focused on Project and Place-based learning was the best educational model for their students. 
The experience of thousands of teachers across all grade levels and subject areas, backed by research, confirms that Project-based learning (PBL) is an effective and enjoyable way to learn and develop deeper learning competencies required for success in college, career, and civic life. PBL is not merely an excellent tool for learning academic skills; it also strengthens a child's ability to successfully collaborate, and to persevere in the face of challenges. These parents decided that PBL is an excellent way to prepare children for "real life."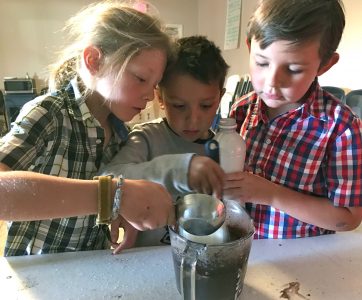 Place-based education was the other exciting component to the educational model of Pagosa Peak Open School. Place-based education (PBE) immerses students in local heritage, cultures, landscapes, opportunities and experiences, using these as a foundation for the study of language arts, mathematics, social studies, visual arts, agriculture, science and other subjects. It recaptures the ancient idea of "listening to the land" and living and learning in harmony with the earth and with each other.  The main purpose of "outdoor education" is to provide meaningful contextual experiences—in both natural and constructed environments. This education can occur both inside and outside the classroom. Place-based education has been referred to as "community-oriented schooling," "ecological education," and "bioregional education."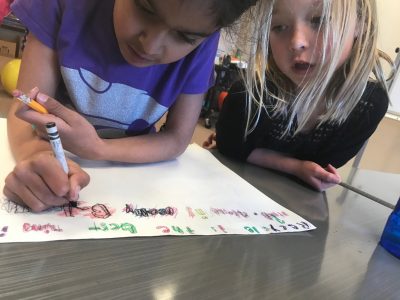 To incorporate the Project and Place-based model into our school these parents decided on a year-round school schedule to allow children to experience all of the various outdoor activities beloved to Pagosans. 
In September of 2017, Pagosa Peak Open School opened our doors as the first district-approved charter school in Archuleta School District #50 JT. Our school served 66 children from grades K-4 in the 2017-2018 school year which was an 88% enrollment rate. In our first year, 52% of our student body met Free and Reduced Lunch Qualifications allowing us to serve these children from underserved demographics with Title 1 services. We have expanded to a K-6 and will continue to grow to a K-8 school.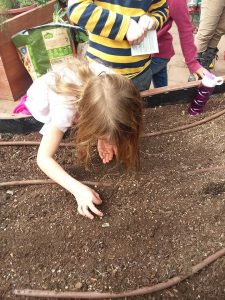 From 2017 to 2018, our school achieved some amazing accomplishments. Our 1st, 2nd and 3rd grade students published a book titled "The ABC's of Gardening in Pagosa Springs" and presented it to the public library. We created a school garden that has six raised beds for perennial flowers, vegetables and fruit trees. We took students on 30 field work trips including trips to Hershey Ranch, Wolf Creek and Sonlight Camp. Our students wrote and directed a play titled "A Garden Fairy" as a fundraiser for the school garden. They raised $1,000! Our students collected data about trash along the town's bike paths, designed animal character trash and recycle bins and presented their findings to the town mayor and council. The Mayor requested for this project to be included in the 2019 Pagosa Springs' town budget!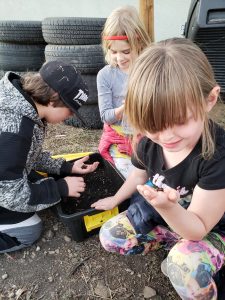 In the first school year Pagosa Peak Open School received several grants that impacted the services we were able to offer our students. We received $50,000 from the Daniels Fund towards a wellness program, charter/district collaboration and extended contracts for special education, primary literacy and school leadership. The Mockingbird Foundation gave us $10,000 for musical equipment. The Walton Family Foundation supported us with $38,000 for Special Education, FRL lunch support, responsive classroom training, and place-based learning collaboration platforms. Other smaller local grants from FACE (Foundation for Archuleta County), our local Rotary Club and The Community United Methodist Church among others have given our school funds for classroom supplies. Pagosa Peak Open School is very pleased that we have received so much support locally and nationally.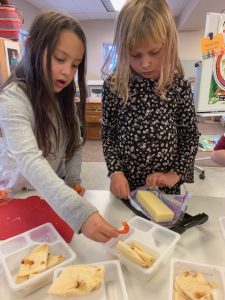 Our projects have been an amazing success for our students, with them leading projects from conception to completion. In the 2018-2019 school year our school hired a new director, Angela Reali Crossland. Through the transition, the vision and mission of Pagosa Peak Open School remained strong with an active and driven Board of Directors. Our new School Director and current staff have established a cohesive working environment that supports the success of the school. About 50% of the staff are parents to Pagosa Peak Open School students, so passionately helping our school succeed is a unified goal. Academically speaking, an important lesson we have learned is that these real-life projects must also tie to state learning standards. All teachers must now actively tie all classroom projects to Colorado state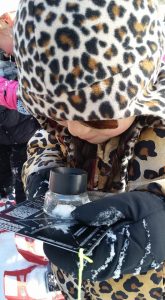 standards. This year (2019-2020) our students have shown significant growth. In fact, recently Pagosa Peak Open School outdid the national average for growth in many areas on the NWEA test. 
Our organization is currently impacting the children of Archuleta County in many ways. Our students are learning about regional issues such as snow science, life skills like gardening, farming and food security, and philanthropy in addition to core English, Social Studies, Mathematics and Science targets. We have incorporated food security as an important part of our programming. SW Colorado is considered a "food desert" We work with local food banks and local foundations with food initiatives to ensure our children have food to eat and learn to cook. We have a backpack program partnered with our local Rotary Club that sends children home with food. Cooking Matters hosts cooking classes at the school that teach families and students to cook together and make healthy decisions. We also have a Food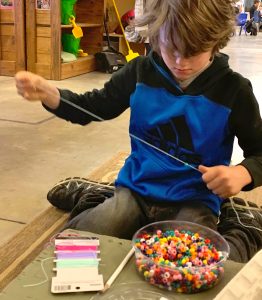 Security Task Force comprised of 4th through 5th graders that is learning about the issues facing our region and brainstorming solutions.
At Pagosa Peak Open School our students, our families, our community and our region are all incorporated into how we educate. In our third year, we are working as a unified team with a common goal: creating a community of empowered, lifelong learners by providing a multi-age learning environment designed to foster confidence, high academic achievement, and the joy of learning through original and meaningful work.
Click here to learn more about Pagosa Peak Open School's unique philosophy and cluture.