The Application of Imagination:
A Virtual Art Auction and Concert to Benefit Pagosa Peak Open School
This Friday, May 22nd, you can "silently bid" on original artwork by local Pagosa Springs artists. We will post each piece individually on our Facebook page (https://www.facebook.com/pagosacharterschool/) and bids will be placed under each piece in the comments section during the Facebook Live Concert starting at 6pm. The concert will end around 7:30pm and artwork goes to the highest bidder.
**if art is purchased by a non-Pagosa Springs area local, the price of shipping will be added to the final bid
Here is a preview of five pieces that will be auctioned:
"Dobbs" by Karla M Parker Choat
Intaglio Print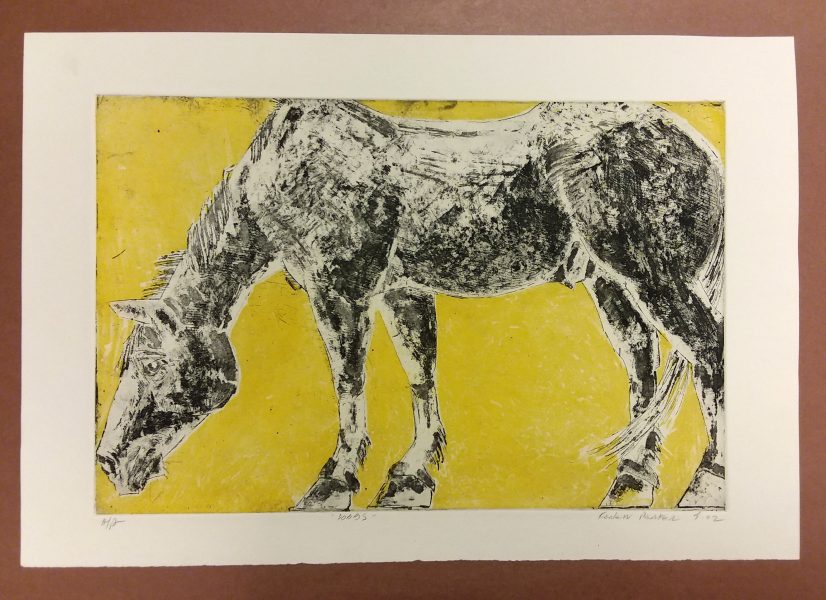 Karla M Parker Choat earned her BFA and MFA from Ringling College of Art and Design and Colorado State University. She followed her dream of becoming a 'cowgirl' and worked as a wrangler, guiding horseback trips from Maggie Valley, North Carolina The Big Bend of Texas, to Taos New Mexico. She began teaching children how to ride horses in the backdrop of The Grand Teton Range. During this time she promoted her intaglio prints while guiding interpretive and exhilarating horseback adventures.
Karla is Pagosa Peak Open School's Kindergarten Advisor, and these days her art flows through the hands of the students of Pagosa Peak Open School as she continues to inspire creativity and imaginagion each day. The print Karla has donated to our school is an original hand pulled two plate intaglio print called "Dobbs", and old roping horse from her wrangling days.
"Eveleth in the Garden" by Alison Beach
Mixed media on paper.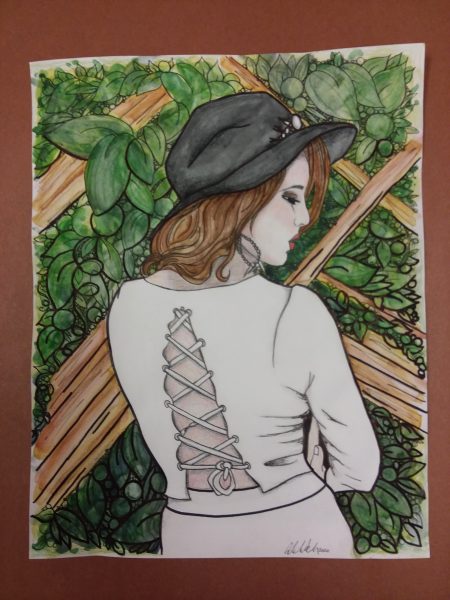 Alison Beach has been drawing and songwriting since she was a little girl. She studied photojournalism and fine art with an emphasis on drawing at the University of North Texas. After college Alison worked for several galleries in Dallas and New York as a curator and publicist. Her pieces have shown in group and solo shows in Dallas, New York and Miami. Her work centers around the use of detail contrasted with blank space through mixed media techniques including ink, pastel, charcoal, graphite and watercolor.
The piece Alison has chosen for our school's auction is title "Eveleth in the Garden". This piece combines graphite, watercolor, Prismacolor and ink. The detailed background sharply contrasts the stark white form of the subject's torso. This allows room for the viewer's eyes to move around the piece, yet also center and reflect falling on the calming blank space.
This subject's pose is indicative of the peace Alison herself feels when surrounded by plant life, whether in her own garden, weeding a landscape, visiting a farm or in the woods. With society's current and heavy focus on cyber-reality, Alison feels that connection to the natural world is key to reflection and clearing space for one's mind to function.
"Glacier" by Jeanelle Marie Wychesit
Acrylic on Canvas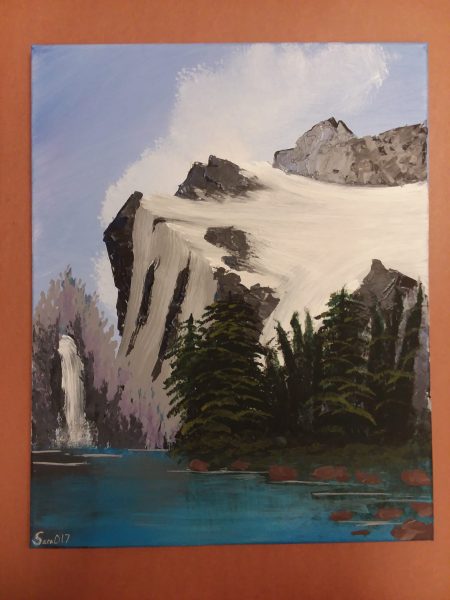 Jeanelle Marie Wychesit's artwork is about home, living here in Pagosa Springs among the glorious beauty of the mountains. What she finds most exciting about the world around her is the colors she discovers only in small moments. Colors that come to life when one is "at just the right spot in time".
"Glacier" brings the viewer a sense of serene calm. The colors are intentionally more muted than Jeanelle's other paintings as to keep the Glacier in focus, without distraction.
"Ripple Effect" by Lexi Bernstein
Wood, metal, organic plant life.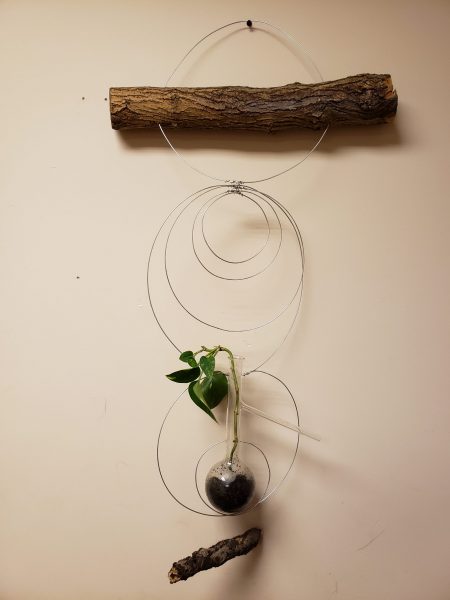 Lexi Bernstein graduated with a B.A. from College of Saint Benedict and Saint John's University in Minnesota in 2017 and is her M.F.A in Arts & Humanities at University of Dundee in Scotland in 2019.
As rapid urbanization causes previously bio-diverse areas to be paved with concrete, and generations of children grow up without access to  "wilderness",  it is increasingly important to intentionally create environments to interact with nature and positively impact the planet. 
Through public artwork, aesthetic designs, and using social activism as a form of art, Lexi is able to affect people from all walks of life and make the world humans live in a better place for all forms of life.
Lexi  has donated "Ripple Effect", a simple aesthetic design created to combine the lack of control we have over living creatures with the precise accuracy required by science. The ripple effect caused by humankind on the natural world is reflected in the piece.
 "Lavendula Angustifolia" by Rain March
Watercolor, rainwater and ink on parchment.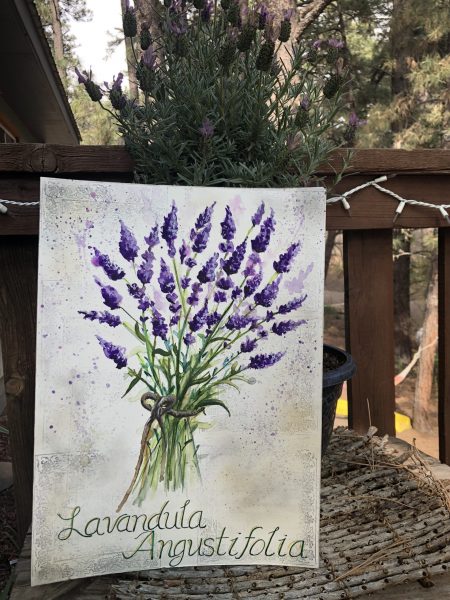 Rain March is Pagosa Peak Open School's Art Advisor. She was born in a small town in Tennessee but raised in a smaller town called Brandon in England. In England she received her general education but specialized in music studying piano, violin, guitar and voice. Rain studied Fine art with a focus in Sculpture at University of North Florida. Rain traveled selling handmade art for several years before deciding to settle in beautiful Colorado.
Rain believes that water has memory. Water holds a picture of everything it has ever been in its very molecules. To bless water makes it holy. Carrying water from a sacred river or fountain is said to imbue the holder with its very essence.The same water that has been the ocean, flows through our veins, flows out our eyes. As such she creates each piece of watercolor art with charged water.This piece, "Lavendula Angustifolia" was painted with Pagosa springs rainwater.  The rain that knows the mountains, knows our sky. This piece is an 11 x 15 parchment, rain water, watercolor and ink, unframed, distressed edges and hand ink stamped background. Lavandula Angustifolia is the latin name for traditional field lavender.
Angela Reali Crossland comes from a long line of woodworkers in her family that has brought her knowledge and inspired her artwork.  She began working with wood in the form of repurposed wine barrels and has enjoyed the process of turning rough wood into art.  Angela has recently branched out into cutting boards and using exotic woods.  The "reveal" of the final product when the finish is applied is the most rewarding part of her artistic creation.
This "Wire Cheese Cutter & Charcuterie Board", made from exotic ambrosia maple and walnut, is a functional piece of art that can be used to serve meats and cheeses.