Engaging Our Students Through Distance Learning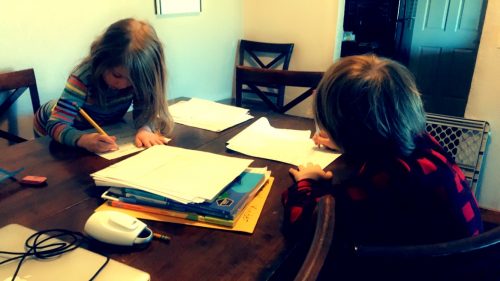 Pagosa Peak Open School is dedicated to creating a community of empowered, lifelong learners by providing a multi-age learning environment designed to foster confidence, high academic achievement, and the joy of learning through original and meaningful work. We are working towards this important mission whether that learning is in-person or a distance learning format.
While we continue to follow Governor Polis's guidelines, we have established a mixture of take-home and digital methods to continue teaching our students. This Distance Learning program includes Zoom Connects that engage our students through project lessons, literacy lessons, math lessons and daily circle time. Daily circle time is a wonderful way for our students to stay connected as we practice social distancing.
Our important Project-based work is incorporated into both the daily circle time and choice boards.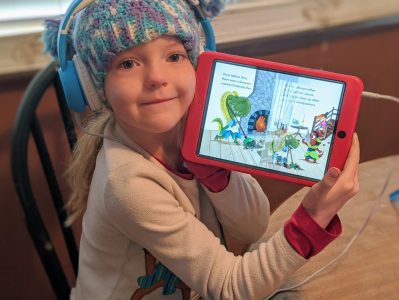 Each Advisor creates choice boards tailored towards their class where students can choose from activities from different categories. These categories include reading, writing, math, social studies, music & fun, Spanish and PE. Our Advisors are giving a varied education that incorporates online programming such as Lexia, Epic, Brainpop, Zearn, Nearpod and Khan Academy. To encourage physical activity, Ms. Sabra offers a Zoom class, "Breathe, Stretch and Relax" three times a week.
Pagosa Peak Open School's specials teachers are also working hard to give our students take-home projects as well as new, in-house created video tools. Mr. Perry, our Music and Performing Arts Advisor has made some educational videos with his musical friends. Ms. Rain, our Art Advisor is working through Zoom, videos and take-home art projects. Our AmeriCorps Food Security Champion, Ms. Lexi is offering amazing Food and Gardening program. We even had a special 3D printing challenge.
We believe connection is very important during a time of social distance. To encourage the continuation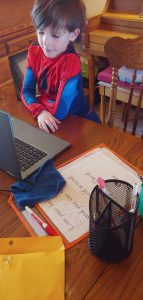 of our school's culture we have held some Virtual Fun Events. Click here to view photos of the Virtual Spirit Week and Virtual Nature Walk Week.
To ensure all families can engage in Distance Learning, we are working on some self-paced options and Chromebooks have been distributed to families who needed access to online learning. We are also working on grant funding for upcoming Academic Camps (one has been fully funded) that will focus on STEAM and literacy, to ensure that students can learn in small groups as we grow closer to a time of in-person learning.
Pagosa Peak Open School is a public, tuition-free charter school serving the beautiful mountain town of Pagosa Springs and Achuleta County in Southwestern Colorado. We will continue to serve and support our families through distance learning as we are dedicated to our mission.