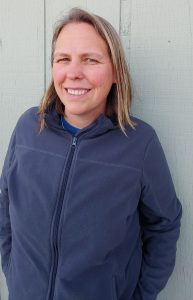 On April 1st business owner and local activist Julie Simmons joined the ranks of Pagosa Peak Open School's Board of Directors.
Julie has an extensive background in private business, government and nonprofit and an array of skills that will greatly benefit our board. She and her husband, Tony, own the very popular and successful Pagosa Brewing Company. At Pagosa Brewing Julie manages Human Resources, finances, organizational restructure design and implementation, systems development as well as capital fundraising and construction.
Her past work experience includes Colorado Housing and the Town of Pagosa Springs, Colorado where she acquired a varied skillset including grant writing and special event coordination.
Julie's civic experience includes Treasurer of Rollergirls in Pagosa, Vice President Seeds of Learning, member of the La Plata Electric Scholarship Committee, Treasurer of Archuleta County Housing Authority, and Vice President of the Archuleta County Victim Advocate Program.
The Pagosa Peak Open School Board of Directors is happy to welcome Julie to our team, and look forward to a bright future with her on board.
Pagosa Peak Open School is dedicated to creating a community of empowered, lifelong learners by providing a multi-age learning environment designed to foster confidence, high academic achievement, and the joy of learning through original and meaningful work.
PPOS is still accepting applications for the 2019-2020 school year with two Open Houses on April 17th that are open to the public at noon and 6pm.