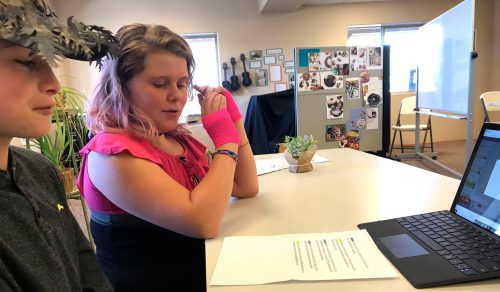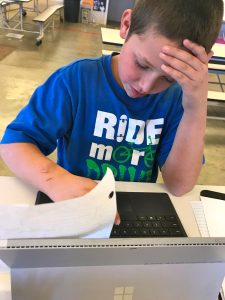 They were excited to be chosen to participate in a new Project, despite not knowing what their role would be, or what the project entailed.
This was not how the process typically began. We prefer a more organic and emergent way of starting Projects and involving students. It was our standard of practice to follow the interests of students and provide necessary supports in helping them reach their goals.
Now, instead, they were here listening to my goals and how they could support me.
"Do you know what food security is?" I started, unsure how to tell them they were chosen to be our Food Security Project board members as a part of the Walton Foundation Grant. A few students nodded and offered guesses. It was clear they were unsure about this big concept, so we spent a few days researching the topic. The United Nations defines food security as, "when all people at all times have access to sufficient, safe, nutritious food to maintain a healthy and active life." Our students broke it down to, "Having access to healthy meals."
With a working understanding of food security I then broached the topic of a "board." This seemed to be more comprehensible for the group, as they drew parallels between things like school boards and planning boards. It was a "group of people who make decisions for other people." Pretty accurate. We looked at student councils and defining roles in these types of student groups, and they quickly assigned themselves roles: president, treasurer, vice president, secretary.
They now seemed ready to be introduced to my goals and needs: to build a working student board to manage food security projects and the funding for these projects. No one blinked an eye. They saw their capabilities and felt ready for such a task.
When I told them we were looking for other youth in the community to submit their food security project ideas to us, and that this group would be reviewing the projects, they had questions. How would they submit ideas? How would we approve their ideas? How much money would different groups get for their work and how would we decide who was approved and who wasn't? How would they even know that we wanted project ideas?
These were the same questions I had, and so together we discussed options and then began work on the first phase: a call to action. The student board would create a vlog that would explain our goals and needs, and invite Pagosa Springs youth to participate in our food security efforts. They agreed projects could be submitted as vlogs or animations, and that the people submitting might want an example of a proposal. From here we went to work on: researching the characteristics of a high quality persuasive vlog and user-friendly animation software, brainstorming food security project ideas, drafting vlog and animation scripts, and practicing animation design.
The results were posted on YouTube Friday, Nov. 9, featuring the students' call to action and two animation examples: