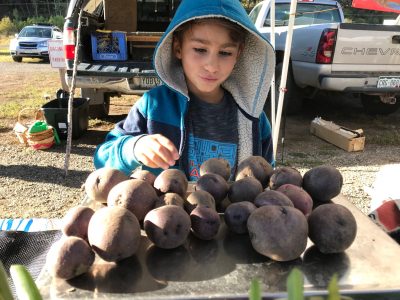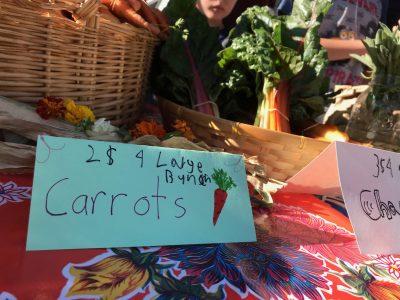 Pagosa Peak Open School has a new focus this year. Along with their place-based, project-based model, they have taken on food security as a priority. This lens has given staff a chance to look at our programs at school, our resources in the county, and the needs of our students. This shift has offered us opportunities to narrow our project work and invite the community to share their ideas about what food security looks like in Pagosa Springs.
This issue comes at the perfect time of the year – harvest time. Students have been reaping what they sowed in the spring: carrots, onions, potatoes and herbs. These piles of plants, cared for by students and staff, presented opportunities for nourishment and care.
Students gathered, washed, bundled and trimmed their produce. They made signs and woke early on a Saturday to sell the product of hard work at the farmers market. They accepted SNAP and Double Up, and made $370 for their garden program.
Again they harvested, washed, bundled and trimmed: now for an after school market, and this time sorting out the less attractive vegetables. Some of these would be cooked in a pot with salt, pepper, milk and water for soup – an afternoon snack that disappeared into bellies within minutes of coming off the stove. Others were carted away to the food pantry downtown – a place that otherwise receives fresh produce once a month.
"We should probably bring stuff here every day," Oliver offered. He and Logan had made the trip downtown with this contribution to their community. "Those bags only had Hamburger Helper and cereal and some cans!" he added, commenting on the food available to the 70 families seeking assistance from the pantry each week.
After hearing more about the efforts of those at the pantry, Oliver and Logan began thoughtfully planning another donation. "Some people don't have stoves and so the food should be stuff they don't have to cook – stuff they can wash in the river," Logan said.
As we move through our harvest season with a focus on food equity and access, we've realized the mission for the school is being realized in our steps. We are building a culture of care, collaboration and community through meaningful and hard work. And these lessons will carry us through winter and across disciplines, until we can plant another round of seeds and participate in another harvest.